This Library is available for all PTQ members with current membership. Please call Lynn Huber with any questions.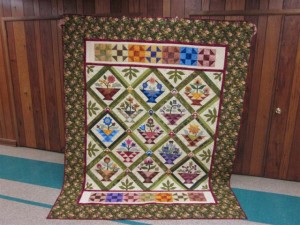 APPLIQUE
FAVORITE APPLIQUE AND EMBROIDERY QUILTS by BETTY ALDERMAN
2 dozen quilt patterns featuring the best of both techniques were created for you!
THE COUNTRY LOVE QUILT by CHERYL A. BENNER & RACHEL T. PELMAN
The Country Love Quilt follows in the stunning tradition of The Country Bride Quilt.  Designed by the staff of the Old Country Store in Lancaster County, Pa this book contains actual size appliqué templates.
APPLIQUE BASICS – FLOWER WREATHS by KAREN KAY BUCKLEY
Learn to make 9 different types of flower wreaths.
MASTERING MACHINE APPLIQUE: THE SATIN STITCH by HARRIET HARGRAVE
The author of Heirloom Machine Quilting shows how to satin-stitch appliqués on clothing and quilts and demonstrates mock-hand and other machine techniques, including straight stitch, blanket stitch, broderie perse, curved piecing, cathedral windows, and stained glass.
THE COUNTRY BRIDE QUILT by CRAIG N. HEISEY AND RACHEL T. PELLMAN
The Country Bride Quilt is designed by the staff of the Old Country Store in Lancaster County, PA this book contains actual size appliqué templates.
QUILTS FROM GRANDMOTHER'S GARDEN by JAYNETTE JUFF
A little handwork-and a few quick tricks-is all it takes to create these striking quilts inspired by old-fashioned Grandmother's Flower Garden quilts. Instead of sewing together thousands of tiny hexagons, make appliqué units instead! Start with one learning place-mat project, and then get creative with ten quilt patterns. Take these perfectly portable projects wherever you go; appliqué units make it easy. Learn how today's inexpensive precut papers make the process a breeze-no need to draw and cut hexagons.
MACHINE APPLIQUE FOR THE TERRIFIED QUILTER by SHARON PEDERSON
This DVD has step by step instructions for many different machine appliqué techniques.
PIECE BY PIECE – MACHINE APPLIQUE by SHARON SCHAMBER
Turn edge and raw edge appliqué and paperless paper piecing!  Hand appliquéd look on the sewing machine!
BALTIMORE ELEGANCE by ELLY SIENKIEWICZ
This book features 25 new small (8") blocks and 8 large reproduction blocks and borders. Also included are 6 lessons for building and improving your appliqué skills.
CELTIC FANTASY by RICKY TIMS
Create an heirloom Celtic quilt with knots, trees flowers and more!
DESERT VISIONS by RICKY TIMS
An American Southwest Indian inspired quilt.
APPLIQUÉ IN REVERSE by HENDERSON TOPE
Reverse appliqué is the process of cutting through background fabric to reveal the appliqué fabrics basted beneath.  Intricate hand appliqué made fast and easy!  The secret? Use large pieces of background fabric underneath the appliqué designs for easier handling.
BATIK
CALIENTE QUILTS by PRISCILLA BIANCHI
This book shows quilters how to be fearless when it comes to color, which is one of their biggest worries. It includes 10 stunning projects unlike any readers will have seen before.
WATERCOLOR QUILTS by PAT MAIXNER MARGARET & DONNA INGRAM SLUSSER
Watercolor quilts, often mood pieces intended to be hung on a wall, are constructed with more attention to the fabric design and to color values than to the actual hues used. By manipulating small squares of fabric. Margaret and Slusser explain how it's done–including advice on everything from choosing appropriate fabric designs to stitching and binding–using lots of color photographs to ease crafters through the basics.
BATIK BEAUTIES  by LAURIE SHIFRIN
Choose from 18 spectacular projects from small wall quilts to full sized bed quilts that showcase the vibrant hues and exotic designs of batik fabrics!
BATIK GEMS by LAURIE SHIFRIN
Make 29 vibrant batik quilts!  Learn how they are made, how to care for them and how to pair them with other fabrics for beautiful quilts.
LANDSCAPE QUILTS
BEAUTIFULLY EMBELLISHED LANDSCAPES by JOYCE R. BECKER
125 tips and techniques to create stunning quilts.
QUILTED LANDSCAPES by JOAN BLALOCK
Use simple string piecing methods, fabrics, and machine embellishments to create realistic landscapes.  Experiment with organza and tulle overlays; learn to couch specialty threads, and how to fuse chopped fabric in these 7 unique projects.
QUILTS WITH A VIEW  by FAYE LABANARIS
Over forty beautiful album block designs showcase floral fabric backgrounds embellished with three-dimensional flowers and buds in a garden appliqué guide. Full-page appliqué patterns blend with color photos of finished quilts in this basic guide.
MINIATURE QUILTS
BABY QUILTS WITH LOVE by ALEX ANDERSON
Modern fabrics make these babies showstoppers!
THE LITTLE BOX OF BABY QUILTS by JENNY WILDING CARDON
20 quilts for baby (including boys) each on a card for easier handling.
CATS, CATS, CATS by Four Corners Designs
Eight projects using a cat motif.
POSITIVELY POSTCARDS by BONNIE SABEL & LOUIS-PHILIPPE O'DONNELL"
4″ x 6″ mini-greetings–and make a one-of-a-kind quilt in an evening. * Follow one step-by-step project to learn the technique; then get inspired by more than 85 creative variations, all shown in close-up photos.
AMERICAN DOLL QUILTS  by KATHLEEN TRACY
16 little projects that honor a tradition.  These doll quilts represent quilts made during different periods in American history.
NEW TECHNIQUES
TWO-COLOR QUILTSby BETTER HOMES AND GARDENS
The 36 quilts in this book will inspire you with a fresh look at these high contrast treasures.
JAPANESE FOLDED PATCHWORK by MARY CLARE CLARK
Fabric is folded to make a block and is then sewn.
DESIGN YOUR OWN QUILTS by JUDY HOPKINS
A reliable step-wise approach to design provides organization and direction while allowing you to make creative decisions.
ADVENTURES WITH LEADERS AND ENDERS by BONNIE HUNTER
What if you could piece quilts even faster, work on more than one quilt simultaneously, and save money, fabric and thread all at the same time?
SCRAPS AND SHIRTAILS: REUSE, REPURPOSE, RECYCLE! THE ART OF "QUILTING GREEN" by BONNIE HUNTER
From reusing fabrics in our stashes, repurposing thrift store fabrics and recycling cotton clothing from our own closets to learning how to shop at the local quilt shop for green products.
SCRAPS AND SHIRTTAILS II CONTINUING THE ART OF QUILTING GREEN by BONNIE HUNTER
More adventures quilting green.
THE THIMBLEBERRIES BOOK OF QUILTS by LYNETTE JENSEN
Traditional quilts with a twist!   Bring a modern look to an old favorite! Includes instructions for 30 quilts.
KALEIDOSCOPES & QUILTS by PAULA NADELSTERN
This book covers the materials and techniques used to make a quilt as beautiful as a kaleidoscope.
FAST, FUN, AND FABULOUS QUILTS by SUZANNE NELSON
Unique tips, tricks, and techniques shave time off cutting, piecing and appliqué.
DYES & PAINTS by ELIN NOBLE
This book covers the fundamentals of dyeing and coloring fabric with MX fiber reactive dyes and fabric paints.  Many of the techniques can be adapted for yarn, ribbon, paper, basket reed and even wood.
ART QUILTS: PLAYING WITH A FULL DECK by SUE PIERCE & VERNA SUIT
53 Quilters each took inspiration from a playing card and used various mediums and techniques to make these fascinating blocks.
FUSING FUN by LAURA WASILOWSKI
Give your sewing machine a rest; no sewing needed except for quilting and binding these eye popping collages!
PAPER PIECING
GARDEN-INSPIRED QUILT BLOCK DESIGNS by JODIE DAVIS AND LINDA HAMPTON SCHIFFER
A good beginner's foundation piecing book!
PAPER PIECE A FLOWER GARDEN  by JODIE DAVIS
Paper piece flowers, birds, bees, butterflies, ladybugs and dragon flies!  A comprehensive paper piecing primer is provided for beginners along with full sized patterns and piecing keys for each block.
QUICK AND EASY QUILTING – FOUNDATION PIECING by JODIE DAVIS AND LINDA HAMPTON SCHIFFER
More than 150 quilt block designs and borders.  A full color photograph of each finished block and quilt. Quilt finishing techniques.  Patterns for more than 20 finished quilts.
CAROL DOAK TEACHES YOU TO PAPER PIECE by CAROL DOAK
Learn to paper piece with this DVD.
EASY PAPER PIECED MINIATURES by CAROL DOAK
Simply rotary cut oversized pieces of fabric, pin them to the patterns, then stitch along the pattern lines with your sewing machine.  The paper piecing technique is so easy you'll make tiny patchwork blocks with perfectly sharp angles every time!
QUILTS WITH ATTITUDE by DEB KARASIK
Learn error free foundation paper piecing with step by step instructions for the spikiest most precise points ever!  Print your own paper foundations from the CD Rom included with the book.
MARINER'S COMPASS by JUDY MATHIESON
Complete patterns for 16 Mariner's Compasses from 9" to 30" diameter.  Learn how to draft designs with many variations.
A QUILTER'S ARK by MARGARET ROLFE
4"X4" blocks of animals. Simply trace the design onto the foundation, add oversized pieces of fabric and sew on the straight lines with your machine!
PAPER PIECING THE SEASONS by LIZ SCHWARTZ & STEPHEN SEIFERT
Beautiful paper pieced pictorial quilts for almost any occasion. Full sized foundation patterns. Tips for working small pieces, points and odd shapes.
EAST QUILTS WEST by KUMIKO SUDO
Paper piecing 53 western blocks with an eastern influence.
RADIANT NEW YORK BEAUTIES by VALORI WELLS
Go beyond the basics to learn more complex techniques, but suitable for anyone familiar with basic quilt block piecing.
QUILT HISTORY
QUILTS OF THE CIVIL WAR by BARBARA BRACKMAN
An album of quilts crafted during the Civil War.  Plus instructions on how you can make them.
GUIDE TO JUDGED QUILT SHOWS by LYNNE F. ERBACH, BEVERLY FINE, LINDA MCCUEAN, SCOTT A. MURKIN, ANDI PEREJDA, LINDA RASMUSSEN, CINDY SELTZ-KRUG, AND ELIZABETH SPANNRING
This guide to judged quilt shows contains thorough, up-to-date information needed to stage a judged quilt show.
NEW JERSEY QUILTS 1777-1950 by THE HERITAGE QUILT PROJECT OF NEW JERSEY
A must have book for those interested in quilt history. One of the best state compiled books about the quilts of their state.
BLENDED QUILTS by MARSHA MCCLOSKEY AND SHARON EVANS YENTER
This full-color, lavishly-illustrated book takes you on a visual journey of quilts from the 1800s coupled with sixteen modern-day counterparts with complete instructions for making them.
WORTH DOING TWICE – CREATING QUILTS FROM OLD TOPS by PATRICIA J. MORRIS AND JEANNETTE T. MUIR
An album of quilts that not only shows a quilt, but explains how to repair a problem or make the quilt yourself.
THE STATE OF THE ART QUILT; CONTEMPORARY QUILTS FOR THE COLLECTOR by BARBARA PACKER
The study of the contemporary quilt as an art form.
AMERICAN QUILTS AND COVERLETS by AMELIA PECK
The Metropolitan Museum Of Art Quilt Collection is showcased.
QUILT HISTORY FORMS
HAWAIIAN QUILT MASTERPIECES by ROBERT SHAW
This volume offers some of the finest examples of the islands' fabric art, highlighted by works of such quilt makers as Elizabeth Akuna, Sharon Balai, and Junedale Lauwaeomakana Quinories, whose clever variations on classic designs are spiced with subtle twists of modernity. This book's insightful and informative text shows how the designs of these extraordinary Hawaiian creations are grounded in spirituality, the indigenous flora, and the visual expression of history.
TWENTIETH CENTURY QUILTS 1900 – 1950 by THOMAS K. WOODARD & BLANCHE GREENSTEIN
An album of quilts crafted in the first half of the twentieth century.
QUILTING TECHNIQUES
THE BEST OF SHIRLEY THOMPSON'S QUILTING PATTERNS by CHERYL BARNES
200 patterns taken from all seven of Shirley's books have been digitalized to fit into the most commonly sized blocks and borders with dozens of stitching diagrams included.
QUILT IT! by BARBARA CHAINEY
Machine quilting including spacer blocks, on point blocks, sashings and borders.
QUILT SAVVY by DIANE GAUDYNSKI
Improve accuracy & fluidity of stitches in charming unmarked free motion designs.
HEIRLOOM MACHINE QUILTING by HARRIET HARGRAVE
Everything you need to know about straight line and free motion quilting, elegant feathers and padded quilting.
PATHWAYS TO BETTER QUILTING by SALLY TERRY
75 patterns for quilters with traditional sewing machines.
FAST AND FREE: A BEGINNER'S GUIDE TO FAST AND EASY FREE MOTION MACHINE QUILTING by PATSY THOMPSON
This DVD begins with a discussion on the basics of free motion quilting, and then turns to a lesson on preparing the quilt sandwich. The viewer is introduced to the concept of fast and free…Patsy's technique of creating countless spin-off designs, just by making a small change in one base design. Patsy discusses how to stitch 18 different quilting designs and gives ideas for additional related spin-off designs. The tutorial ends with a detailed lesson in how to convert your closed toe free motion foot to an open toe foot.
QUILT STENCILS
FLYING GEESE
FLOWERS
ORANGE
OVERALL FLOWER
OVERALL ICE CREAM
OVERALL WAVES VARIATION
SHELLS
TULIP
WAVES
STITCHES AND MOTIFS
AN ENCYCLOPEDIA OF CRAZY QUILT STITCHES AND MOTIFS by LINDA CAUSEE
There are 90 Crazy Quilt Stitches illustrated with how-to instructions. In addition there are eleven Ribbon Motifs. For each ribbon motif we've included a stitching diagram to use as a blueprint for creating beautiful ribbon work.
BORDERS, BINDINGS AND EDGES by SALLY COLLINS
Advice on planning, cutting, stitching and attaching pieced, appliquéd and whole fabric borders.  Learn to make bias binding piped finishes, scalloped edges and more!
BEYOND THE BLOCKS, QUILTS WITH GREAT BORDERS by NANCY J. MARTIN
18 gorgeous quilts to make featuring patchwork, appliqué and strippy borders.
CRAZY QUILTING – THE COMPLETE GUIDE by MARSHA MICHLER
10 different methods for piecing. More than 100 embroidery stitches for ribbons, flosses and threads.  Techniques for dyeing, painting, stamping, printing and embroidery on silk, cotton, rayon, wool and linen.  Instructions for adding buttons, beads, tassel, cording and other dimensional embellishments.
THE QUILTER'S POCKET REFERENCE by PEGGY SCHOLLEY
An easy guide to yardage such as how many 4 ½" squares in a yard to how much batting does this quilt need?
TRADITIONAL PIECING
2008 PACIFIC NORTHWEST QUILTFEST by ASSOCIATION OF PACIFIC NORTHWEST QUILTERS
This DVD is slides with a printed caption of this Seattle, WA quilt show.
MAGIC BASE BLOCKS by PATTY BARNEY & COOKEY SCHOCK
Bypass troublesome bias edges.  Piece an entire block's worth of large and small half square triangle units in one easy step, without stitching on tricky bias edges.
501 QUILT BLOCKS by BETTER HOMES AND GARDENS
A treasury of patterns for patchwork and appliqué blocks.
THE QUILTER'S ALBUM OF PATCHWORK PATTERNS by JINNY BEYER
4050 beautiful color designs to choose from. Transparency sheets with 32 common design grids.
STAR LOG CABIN QUILTS – QUILT IN A DAY by ELEANOR BURNS
Instructions for making a log cabin block with stars placed on the inside, outside of blocks and on borders.
SALLY COLLINS TEACHES YOU PRECISION PIECING by SALLY COLLINS
This DVD shows many tips to help with matching, cutting etc.
QUILTER'S COMPLETE GUIDE by MARRIANE FONS & LIS PORTER
Guide for drafting, sewing, and quilting projects.  Including a clear explanation of how to use quilter's tools.
VISUAL QUICK TIPS QUILTING by SONJA HAKALA
A pocket reference you take with you for quilting away from home.
FAT QUARTER QUILTS (2007) by M'LISS RAE HAWLEY
Get the basics on choosing fabrics, techniques and quilting designs unique to fat quarter quilts.
FAT QUARTER QUILTS  (1999) by M'LISS RAE HAWLEY
Get the basics on choosing fabrics, techniques and quilting designs unique to fat quarter quilts.
AROUND THE BLOCK AGAIN by JUDY HOPKINS
200 easy to sew blocks and quilt piecing techniques.
101 FABULOUS ROTARY-CUT QUILTS by JUDY HOPKINS AND NANCY J. MARTIN
Quilt projects clearly arranged from A-Z graded by skill level and showcased in wonderful color photographs.
60 DEGREE SHAPES WITH NO MATH by SHARON HULTGREN
This VCR tape shows how to construct a basic quilt, then how to move into enhancements.
QUILTS! QUILTS!! QUILTS!!! by DIANA MCCLUN & LAURA NOWNES
32 classic quilt patterns, accurate templates, yardage  charts, bed and wall sized charts, and new quick cutting and quick piecing techniques!
PRECISION PATCHWORK FOR SCRAP QUILTS ANYTIME, ANYWHERE… by JEANNETTE TOUSLEY MUIR
Preparing a quilt to be worked on any time or anyplace by quilting one block at a time.
WONDERFUL FABRIC QUILTS by KAY NICHOLS
One piece of fabric does it all – blocks, borders and binding – all cut from the same fabric.
TIPS FOR QUILTERS by RACHEL T. PELLMAN
A group of quilters gave the author their best tips for quilt making.
LOG CABIN FEVER by EVELYN SLOPPY
Choose from 11 projects that mix traditional Log Cabin blocks with baskets, hearts, stars and other motifs.
BACK TO BASICS by PAT YAMIN
A how to manual for cutting old-time patchwork patterns with today's accurate templates and quick rotary techniques.
THE QUILTER'S KITCHEN by DARLENE ZIMMERMAN AND JOY HOFF
Quilts inspired by food dishes and the cookbook to make the meal.